Description
This Fisher & Paykel Bottom Mount fridge has a 519 litre capacity to suit a 3-4 person household and provides easier access to your everyday essentials. The fridge sits above the freezer so you can reach for fresh groceries, ingredients and drinks more quickly rather than having to bend down to search for them. Crisper drawers are within easy arm's reach to save you time, and they're humidity controlled too so fruit and veg stay fresher for longer. The Fisher & Paykel RF522BLPX6 has adjustable glass shelves and door bins so you can make room for bulkier items as you need to, while the freezer's slide-out drawers help keep frozen goods better organised. It has a 3 star energy efficiency rating. The RF522BLPX6 has ActiveSmart Foodcare technology to adjust the temperature, airflow and humidity inside so food is stored optimally, no matter how many times you open the fridge door. It has a real stainless steel finish with ultra-flat doors for seamless integration into the most contemporary kitchen. Find what you need and keep it all organised with this Fisher & Paykel 519 litre bottom mount fridge.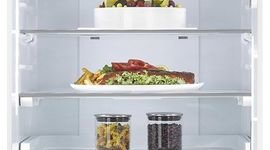 Adjustable Shelves
Enjoy added versatility in storage, with convenient adjustable shelves. This makes your everyday items easier to organise.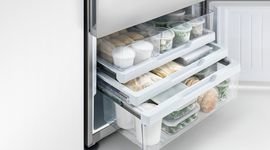 Storage Drawers
Storage bins give you full access inside when they're pulled open and can be easily removed to clean. Our flexible shelving also gives you more storage options.
Vegetable Crisper
At the base of the fridge you'll find the crisper drawer to keep fruit and vegetable items fresher for longer.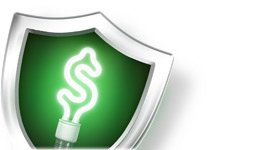 Energy saving
The ActiveSmart™ RF522BLPX6 refrigerator cools and defrosts itself only when needed, reducing energy consumption.