Description
The 8.5kg front load washing machine from Haier offers a variety of functions. This machine can reach spin speeds of up to 1400 RPM which helps to remove moisture from clothes so that they spend less time in the dryer, saving you time and energy. You won't have to worry about any accidental interruptions during the cycle with the handy child lock which prevents the door from being opened and buttons being press. The Wave Drum is designed to provide a gentler more efficient wash, protecting delicates and fine textiles for added peace of mind.
This washing machine has a long lasting Anti-Bacterial treated door seal and detergent dispenser which assists in preventing mould and bacteria build up, keeping your machine clean and your clothes smelling fresh. There is a delay start feature which allows you to plan cycles in advance for added lifestyle flexibility. You have the choice of 16 different wash programs helping you to select the best option for your garments.
Haier has designed this washer with a direct drive motor which has less moving parts for longer-lasting use and quieter performance. The 3.5-star energy rating and 4.5-star water rating helps to reduce your household running costs.
Convenient and smart
Use the smart delay start feature to organise your washing schedule so it fits in with your lifestyle. Don't want the washing machine going while you have guests over? Simply set the delay start feature and your washing machine will do all the work at a more suitable time.
Whisper quiet
Enjoy saving money on your electricity bill by washing during off-peak times thanks to the digital inverter motor which ensures every wash is quiet enough to not wake the baby or disturb you while you sleep.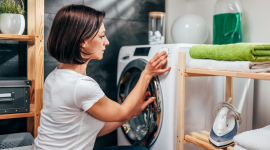 Choice of programs
With a wide range of programs to choose from, you're able to select a wash cycle for different types of laundry, to suit a variety of needs.