Description
Designed with busy families in mind, the Westinghouse 528L Bottom Mount Fridge with a left-hinge door is a reliable refrigeration solution to keep your kitchen organised and running smoothly. Due to the bottom-mount configuration, the fridge section is more accessible, so you don't have to bend down when retrieving ingredients or grabbing a cold drink.
Thanks to the FlexStor system and the adjustable shelves, you can have the interior organised exactly the way you like. It can be adapted when your needs change, so if you need to store a large birthday cake, or have awkwardly-shaped bottles to store, the shelving can be easily adjusted for any occasion. There's a lockable FamilySafe compartment to safely store items such as medicines, while the FreshSeal crisper will keep fruits and vegetables fresh. The SpillSafe shelves ensures you don't have to worry about liquids dripping down to lower shelves and makes it simple to clean up.
This thoughtfully designed Westinghouse fridge makes it easy to organise your food and drinks. And with stylish detailing on the exterior, it is sure to look good in any modern kitchen.
SpillSafe™ shelves
SpillSafe shelving can contain spilled liquid, stopping accidents from spreading throughout your fridge.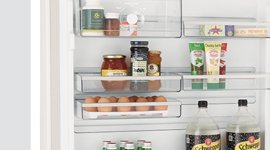 FlexStor
FlexStor allows you to adjust the height and positions of the door bins, ensuring you can comfortably fit small and large items whichever way you prefer. No more worrying about those awkwardly-shaped drink bottles.
FreshSeal Crisper
Equipped with advanced seals for improved humidity control, the FreshSeal crisper provides the ideal moisture to keep your produce fresh and crisp. You can use the slider to adjust the humidity level of your crisper, depending on the produce.
Stylish Design
With a flat door design and exquisitely crafted handles, this meticulously designed fridge exudes a sense of elegance. The fingerprint-resistant stainless steel is easy to keep clean to keep your kitchen looking immaculate.